Welcome to Farnham Swimability
Restarting 26th May 2021
Sessions
2:00 to 3:00pm on Wednesday afternoons
Venue
Farnham Leisure Centre
Costs
Membership: £5 per annum
Sessions: 50p each
Taster sessions
Free
Telephone
Email

The Association is a registered charity and was founded in 1981 to offer access and support to sport for disabled people of all
ages and at all experience levels.
Disability can be such a lonely and depressing situation that the last thing you want to do is sit at home alone and worry.
The important way to feel better is to get out and about and meet people with similar problems and find out how they cope – or pass on your experiences to someone less fortunate. If you combine this with physical activity through some sort of sporting pursuits, the 'feel good factor' is much, much greater.
You will never know what you can achieve unless you find out where your limit is. And the best thing is that it keeps moving forward every time you chase it! Even Paralympic Champions had to start somewhere.
If you think you might like to find out more about the various sports we offer please use our Contact Us Form - we'll be pleased to help you.
News - November 2018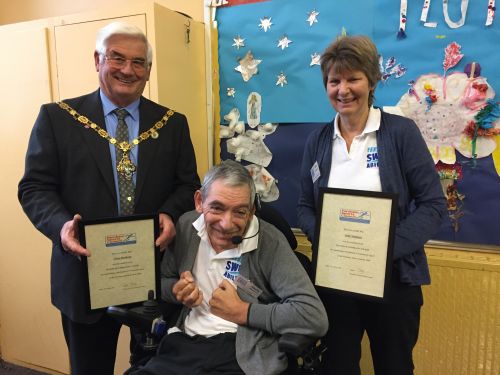 Chris and Julie Stephens recently received awards from Farnham Sports Council in recognition of their commitment to disabled sport for over 30 years.